Find your spiritual health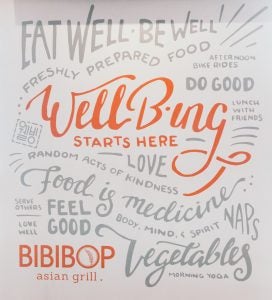 BIBIBOP is all about well-being and we believe that promoting well-being goes beyond offering quality food and extends to health in all forms- physical, mental, relational, and spiritual.
Spiritual Well-Being can mean many different things for many people. For us, Spiritual Well-Being is guided by the ideals of faith, hope and love. Living out these ideals can help lead to a brighter life and more wholistic form of well-being.
We did some looking around and found that Advent Health had a bit to say regarding one's spiritual Well-Being.
We believe your whole health requires care and attention for not only your physical body but also your mind and spirit. The benefits of spiritual well-being are numerous – from more compassionate relationships to a deeper sense of inner peace
A practical way to gather our thoughts and calm our spirit is by journaling!
Journaling can help bring us into a state of mindfulness. Past frustrations and future worries lose their edge in the present moment. Journaling can also help us recognize unhealthy habits or feelings we may be holding onto.
Explore how you define your spiritual Well-Being and what you can do to grow in this area of life!