Focusing on fitness even when it's freezing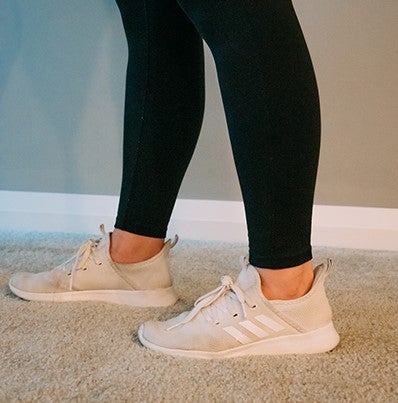 Staying active in the winter months is not easy. It requires intentionality, motivation, commitment and lots of discipline. It's not exactly the most comfortable time to work up a sweat when it's cold and snowy outside, and inside, your kitchen calls with sweets and treats and your couch with limitless comfort. Overcoming these temptations when you know it's time to get your body moving will be key to your fitness success in the dead of winter.
It doesn't help that COVID continues to rage on, so we'll have to get creative and see what we all can do to stay active from home. Luckily, there is still so much you can do to engage with your physical well-being even from home. We'll break down our 3 home exercises into levels of intensity and impact on the body, so you can gauge what is right for you!
Take it easy, and still get your move on!
Walking either in the house (space can get very limited unless you have a treadmill) or around the neighborhood is a great way to help yourself reach your daily step goal (commonly held at 10,000 steps a day). Continued long stretches of walking is a great way to burn extra calories, give your brain time to breathe from the busyness of life, and discover something new in the area. If you are going to go with an outdoor walk, you'll have the extra layer (literally) of getting bundled up every time you go out… but this is still a very refreshing way to get your daily exercise in and see the world at the same time!
How's your balance?
Vinyasa yoga is for those looking to up their game from walking a bit. From relaxing stretches, to engaging holds and poses, yoga is a great blend of movement and stillness that engages the whole body. Yoga is not for the faint of heart, however – certain holds can be quite difficult for beginners. However, the growth one can experience over a week or a month can keep you competitive with yourself and pushing to discover new about yourself. To learn how you can begin your own yoga journey, visit YogiaBlog!
Ready to sweat? Let's HIIT it.
If your mission is burning calories and doing it quickly, HIIT (High Intensity Interval Training) is for you. These workouts are intense and often incorporate some low impact exercises in most HIIT plans, but it cannot be denied how effective they are getting your heartrate raised and your body sweating. HIIT workouts involve repeatable bodyweight exercises accomplished in rapid succession with very small breaks in between each workout. The idea is to keep your heartrate raised and to cycle through each exercise quickly and intensely. You can get in quite the intense workout in just 15-20 minutes of HIIT. If time is of the essence, and you're looking to move your body intensely (and see greater results because of it), HIIT is the way to go! Looking for some HIIT workouts for inspiration? Here is a list of over 100 HIIT workouts for you to choose from with difficulty ranging from beginners to experts.
Don't let the winter seasons be your crutch. Keep yourself in check with healthy meals, and get motivated with a plan to stay active and in shape this winter season. Remember, summer bodies are built in the winter!