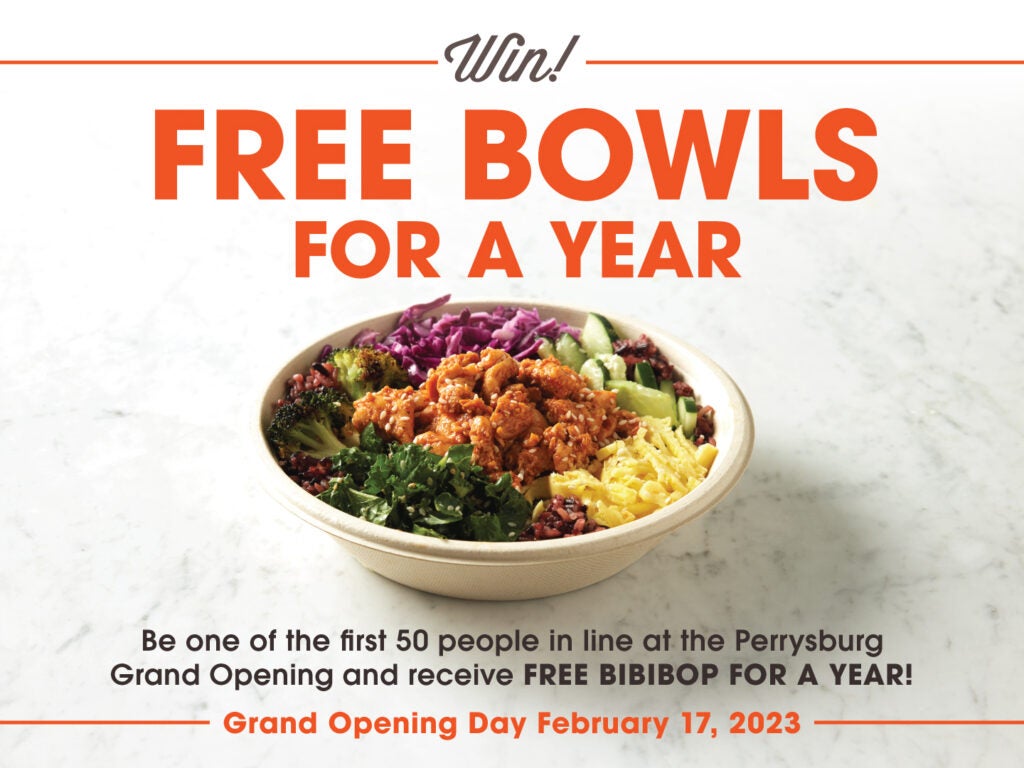 Perrysburg opens February 17th!
Mark it in your calendars, Asian food enthusiasts! Northwest Ohio's second BIBIBOP Asian Grill store will be opening at 11:30 AM on February 17, ready to serve Gluten-Free Asian-inspired bowls to the public. The store will be a new tenant in the French Quarter Parking Square in Perrysburg.
BIBIBOP French Quarter will officially open with a ribbon-cutting on the morning of February 17, 2023, at 10:30 AM. This location will offer in-person, online, pickup window, and delivery orders throughout the day. BIBIBOP will mark the opening with a day-long celebration, including unique gifts and prizes.
On Opening Day, guests can immerse themselves in all things BIBIBOP:
Winning Free BIBIBOP for a year: Be one of the first 50 people in the store and receive 52 bowl vouchers for use throughout the year at the Perrysburg location.
Wearing Orange for $5 Off during the grand opening and get $5 off your in-person order.
Receiving $5 off when you sign up for the app: sign up for a BIBIBOP Rewards account and get a $5 Reward added to your new account
Free Bowls for Civic Workers. This group includes teachers and members of law and fire departments
Since opening its first location in 2013, BIBIBOP has been sharing healthy & affordable Asian food and a message of well-being throughout the country. The new Perrysburg location will be the 48th store for BIBIBOP nationwide and joins our Toledo area location:
4038 Talmadge Rd, Toledo, OH 43623
"The BIBIBOP Asian Grill concept has performed very well with consumers, as demonstrated by our steady growth through the years," said founder Charley Shin. "As we've expanded, we have never lost sight of our commitment to bringing our signature 'WELL B•ING' to all the communities we serve by strengthening our neighbors and enriching the lives of our team members."
At BIBIBOP, guests build bowls filled with fresh and healthy ingredients: base, protein, toppings, and sauce. Ingredients like our tender steak or all-natural chicken, fresh vegetables, rice, potatoes, and bold and flavorful sauces like sweet and tangy Yum Yum or spicy Korean favorite, Gochujang. BIBIBOP's customizable bowls allow guests to create vegetarian or vegan-friendly meals that align with their lifestyle and focus on their well-being. BIBIBOP was also named a Gluten-Free Safe Spot, certifying each location as 100% gluten-free.
For the latest information, visit facebook.com/BIBIBOPPerrysburg.