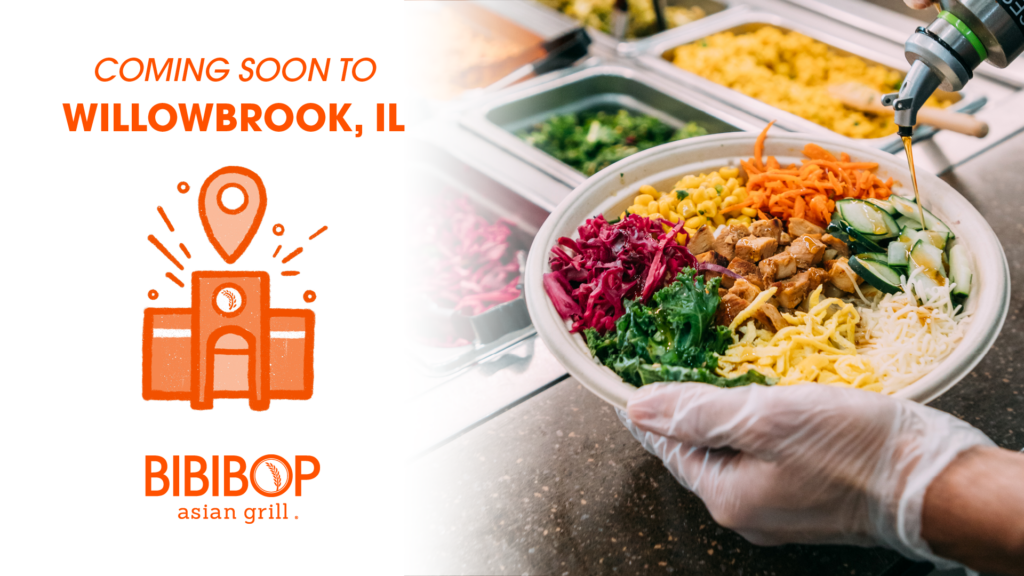 The sizzle of a hot grill, the aroma of fresh ingredients, and the promise of bold flavors – it's all coming to Willowbrook, Illinois, on November 10, 2023, as BIBIBOP Asian Grill opens its fifth location at 7137 Kingery Highway, Willowbrook, IL 60527. With the grand opening of this new store, BIBIBOP is all set to add a burst of Korean-inspired culinary excellence to this vibrant community. Whether you're a BIBIBOP loyalist or a first-time visitor, get ready for an array of exciting offers and rewards on opening day! 
Grand Opening Extravaganza
Prepare to join the celebration as BIBIBOP Asian Grill opens its doors in Willowbrook on November 10. Here are the mouthwatering deals and special offers you can look forward to on the big day:
Win Free BIBIBOP for a Year: If you're among the first 100 guests to walk into the store, you'll receive 52 bowl vouchers, valid for redemption throughout the year. Picture indulging in a delectable, customizable bowl every week for an entire year! (Please note that you must be 16 years of age or older to claim this prize.) 
Wear Orange for $5 Off: Show your enthusiasm and wear Orange during the grand opening to score an instant $5 discount on your in-person order. Not only will you be adding a pop of color to your meal, but you'll also be pocketing some savings.
Get a FREE BOWL with BIBIBOP Rewards: Download the BIBIBOP app and sign up for a new BIBIBOP Rewards account to receive a delightful FREE Bowl added to your new account. This is your chance to stay connected with BIBIBOP and earn rewards with each visit. 
Free Bowls for Civic Workers (in store only): As a token of appreciation for the tireless dedication of medical professionals, educators, and members of the police and fire departments, BIBIBOP Asian Grill is offering a complimentary bowl when you present a valid ID. It's a heartfelt gesture to recognize their invaluable contributions to the community.
BIBIBOP's Illinois Expansion
The Willowbrook location proudly stands as the fifth BIBIBOP Asian Grill store in Illinois, complementing its sister locations across the state. If you're in the vicinity of any of these other Illinois-based BIBIBOP stores, you can explore their unique flavors and offerings: 
BIBIBOP DEPAUL UNIVERSITY Address: 24 E. Jackson Blvd., Chicago, IL 60604
BIBIBOP OAK BROOK – 22ND STREET Address: 1725 22nd St., Oak Brook, IL 60523
BIBIBOP SCHAUMBURG – WOODFIELD Address: 1022 N. Meacham Rd., Schaumburg, IL 60173
BIBIBOP VERNON HILLS, IL – HAWTHORN VILLAGE Address: 700 E. Townline Rd., Vernon Hills, IL 60061
(coming soon) BIBIBOP NAPERVILLE, IL – MARKET MEADOWS Address: 1309 S. Naper Blvd., Naperville, IL 60540
Charley Shin, our founder of BIBIBOP, is brimming with excitement about this expansion and the opportunity to serve the diverse and welcoming community of Willowbrook. He passionately states, "The BIBIBOP Asian Grill concept has performed very well with consumers, as demonstrated by our steady growth through the years. As we've expanded, we have never lost sight of our commitment to bringing our signature 'WELL B•ING' to all the communities we serve by strengthening our neighbors and enriching the lives of our team members."
With its unwavering commitment to well-being, a menu bursting with flavor, and a genuine dedication to the community, BIBIBOP Asian Grill is set to become a cherished addition to Willowbrook's dining scene. Take advantage of the grand opening and the incredible offers that await you on this exhilarating day!