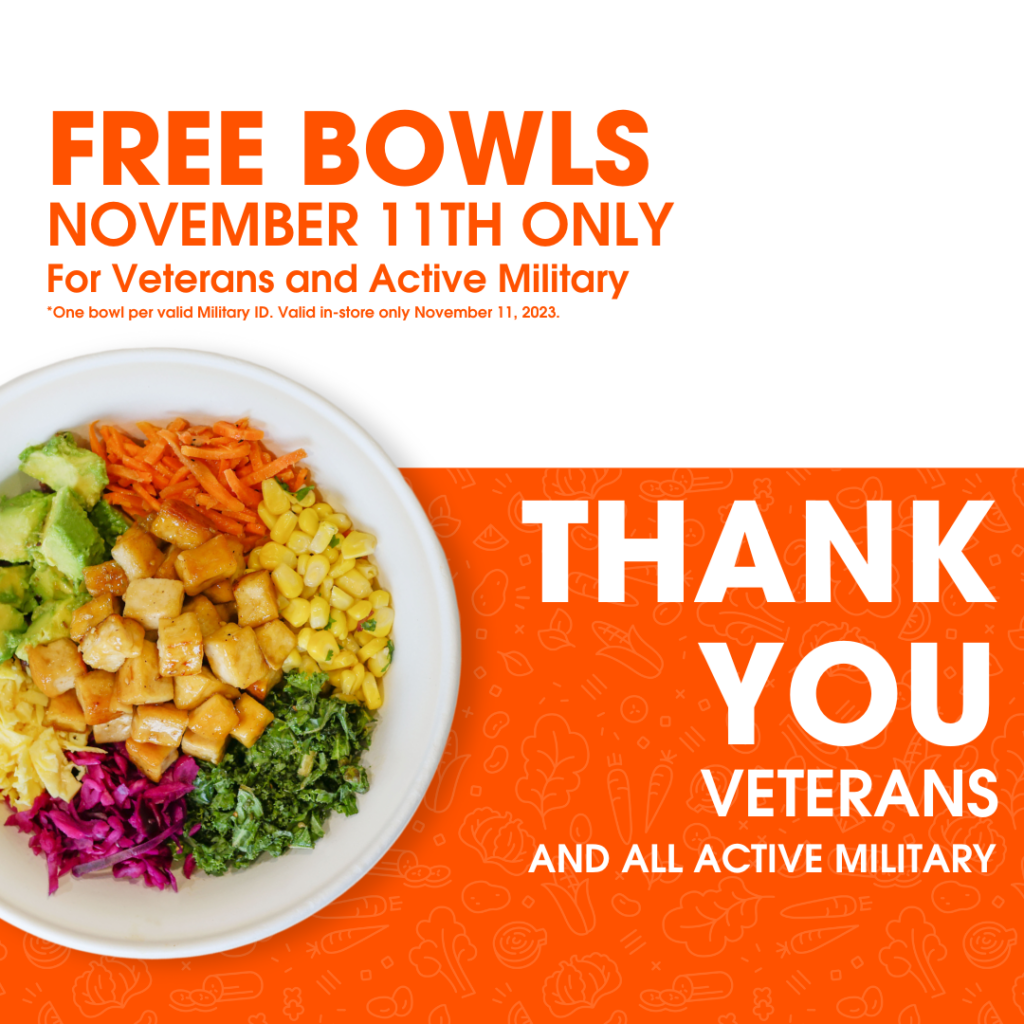 As the leaves turn golden and the air gets crisp, November brings with it the promise of festive times ahead and a day of profound significance – Veterans Day—a day to remember, respect, and salute the brave souls who've served our nation. At BIBIBOP Asian Grill, we deeply value the sacrifices and dedication of our veterans. Their undying spirit, bravery, and commitment have ensured we continue living in peace and harmony.
In a humble attempt to show our immense gratitude, we are excited to announce that on November 11, 2023, all veterans will be treated to a complimentary bowl at any BIBIBOP Asian Grill location. Our beautiful bowls, inspired by the rich culinary traditions of Asia, symbolize well-being, unity, diversity, and harmony – values that resonate deeply with the spirit of Veterans Day.
Details of the Offer:
Date: November 11, 2023
Offer: One free bowl for every veteran
Location: All BIBIBOP Asian Grill outlets
How to Redeem:
All veterans are kindly requested to present their military ID or other proof of service at the counter. Our staff will be more than happy to serve you with our signature bowl, filled with flavors that are as diverse and harmonious as our beautiful nation.
In our bowls, you'll find more than just mouthwatering ingredients. You'll find our heart, respect, and most profound appreciation for everything you've done for our country. It's a small token of our gratitude for your immense sacrifices.
We invite all our patrons to join us on this special day. Even if you aren't a veteran, come down to show your support, share a meal, and engage in heartwarming stories of valor and courage. Let's make this day memorable for our heroes and our community as a whole.
At BIBIBOP Asian Grill, we believe in the power of unity, love, and gratitude. This Veterans Day, let's come together to celebrate, remember, and thank those who've given so much for our freedom.
Note: The offer is valid only for dine-in. We recommend veterans arrive early to avoid the rush.
We look forward to serving you and honoring the indomitable spirit of our veterans. See you on November 11!
With most profound respect and gratitude,
The BIBIBOP Asian Grill Team