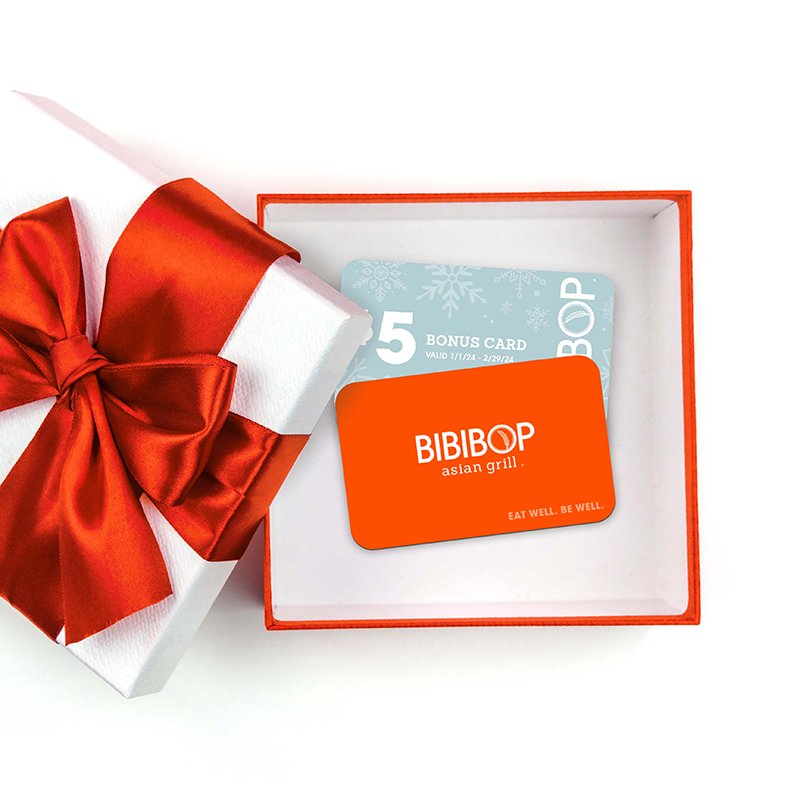 The holiday bells are ringing, and the festive vibes are in full swing! As we bundle up in cozy sweaters and sip on warm cocoa, we're all gearing up to shower our loved ones with gifts and joy. We know that the holiday season is all about making memories, sharing love, and, of course, finding those perfect gifts while saving for more merry moments.
🌟 Drumroll, please! 🌟 BIBIBOP Asian Grill has a delightful treat just for you! For every $25 gift card you pick up from our twinkling store, we're sprinkling in a bonus $5 gift card, absolutely FREE! It's our way of joining in on your festive cheer.
And guess what? The magic amplifies on Black Friday, November 24th! On this particular day, for every shiny $25 gift card you grab, we're gifting you TWO sparkling $5 gift cards. Double the joy, double the treat!
A few merry reminders:
The $5 bonus gift cards are your ticket to a delightful in-store feast, and stores cannot combine in one transaction.
This festive bonanza is exclusively in-store.
Collect your jolly $5 Bonus Cards from 11/15/23 to 12/24/23.
Redeem these festive tokens from 1/1/24 to 2/29/24, exclusively for a beautiful bowl.
Remember, these cards are like special holiday cookies—unique and not to be combined with other offers or discounts. And just like cookies, they're not exchangeable for cash!
So, please put on your holiday hat, swing by your nearest BIBIBOP Asian Grill, and dive into our world of festive delights! Here's to a season filled with laughter, love, and many yummy treats! 🎄🎁